Dear clients,
I would like to welcome you to Darkov Spa, where we specialize in the demanding rehabilitation of diseases of the locomotive and nervous system, especially traumatic and postoperative conditions, or the consequences of stroke and many other diseases. You will find complete, professional services and an individual approach in our Spa. The client always comes first.
Staying with us is your right decision.
Ing. Pavlína Filipi
General Manager and CEO
DARKOV SPA
MODERN PROFESSIONAL HEALTH REHABILITATION RESORT WITH PROFESSIONAL STAFF AND MODERN MEDICAL EQUIPMENT.
Darkov Spa is a leading spa and rehabilitation resort in the Czech Republic and one of the oldest iodine spas in Europe. Our Spa is worldwide known for the iodine-bromine brine. Our resort is specialised in the treatment of locomotive, nervous and circulatory system, skin and gynaecological diseases.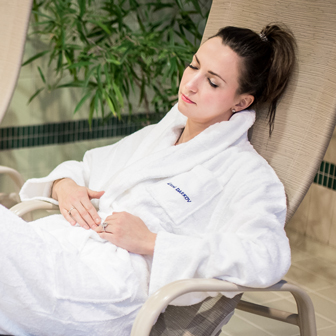 In addition, conditions after injuries, surgeries and cerebrovascular events and burns are also successfully treated here. Every year we help more than 15000 clients. Provided care with more than 150 years of tradition is based on the natural wealth of iodine-bromine water with high content of iodine, the professional staff and the latest medical technology, including robotic devices. We offer a pleasant place for stay and a wide range of services for the healing and relaxation of our clients. Darkov Spa is a barrier-free complex of interconnected buildings – all the services "under the same roof" and also offers the prayer room for Muslim clients to pray. The Darkov Spa is situated in Moravian-Silesian Region in the north-east of the Czech Republic, in Central Europe, about 400 km from Prague. No wonder the Moravian-Silesian Region is called the region of contests and opportunities. It boasts natural resources, well-maintained traditions and crafts, historical and cultural monuments, unique spa, sports facilities and excellent cuisine.